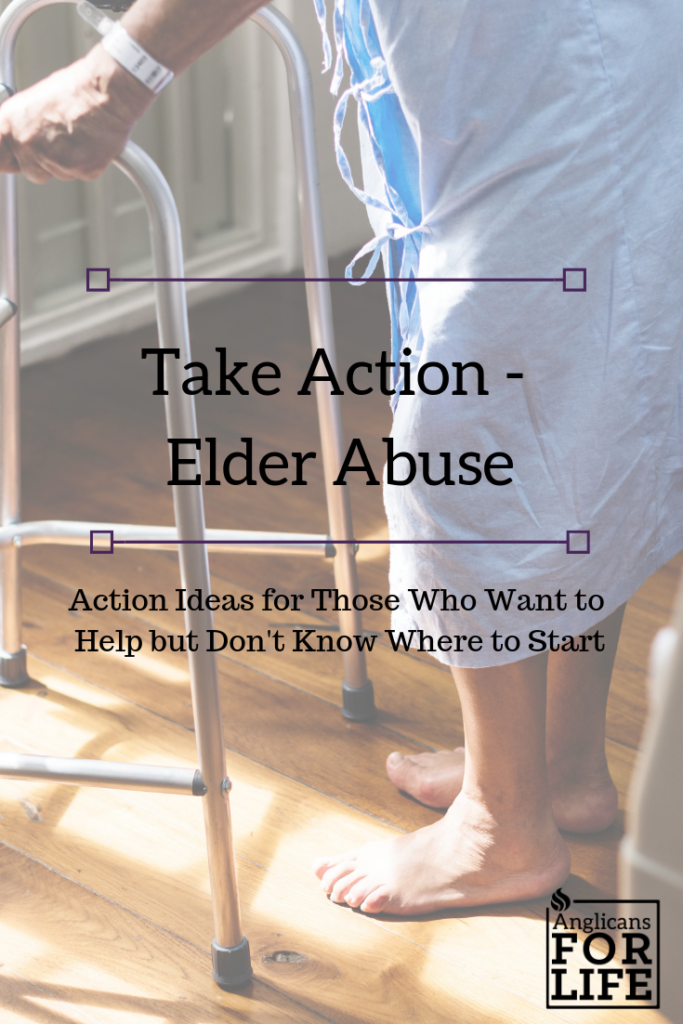 Each month we will offer a list of action ideas so you can defend, honor, and celebrate Life in your churches and communities on our Take Action page. This month, we are looking at elder abuse.
"That would never happen to someone I love." Abuse, whether it is physical, sexual, or psychological, seems very alien to many of us. You couldn't imagine a loved one being hurt or hurting you. But abuse does happen to people you know and more often than we unfortunately realize. In recent years, however, we have seen a growing concern for a group of especially vulnerable people—the elderly.

Elder abuse can be physical, emotional, or sexual in nature but can also include abandonment, neglect, and financial exploitation. According to the National Council on Aging, 1 in 10 of Americans aged 60 and up have experienced some form of elder abuse. While some estimates indicate that up to 5 million elders are abused every year, only 1 in 14 cases of abuse are reported to authorities. This is likely because the abused elderly person is too embarrassed or ashamed to report it. They also can be afraid to report the abuse, because their abuser, such as a nursing home attendant, medical professional, or family member, has authority or control over them. Finally, they may worry that they won't be believed if they do report the abuse and will be perceived as being confused or senile.
Of course, most nursing home personnel, caregivers, and family members are proactively seeking the best care for elderly people. And, yes, aging people, especially those struggling with dementia, can occasionally falsely claim that caregivers or family members are either neglecting or harming them. But this does not take away the reality that a lot of elderly people are at risk of being abused and exploited, and we in the Church should be aware of this reality.
Regularly check in with elderly fellow parishioners or family members. Be aware of the warning signs of elder abuse, such as unexplained bruises or burns, emotional withdrawal, depression, decline in hygiene or personal care, or sudden changes in financial situations. If something doesn't seem right, reach out to either family members or care home supervisors, or even to authorities if necessary. Know that elderly people may deny abuse while still desperately needing help.
The end of life is meant to be a season to celebrate a life well lived and is certainly no time to be abused, neglected, or afraid. Help those who are no longer able to help themselves.
Action Ideas
Plan visits to elderly parishioners in hospitals or nursing homes, but don't arrive at the same day or time.
Host a class at your church discussing signs of elder abuse.
Have a financial expert meet with aging people to help them protect their financial assets.
Resources