There was a medical emergency at a Planned Parenthood in Arizona on August 17th, 2018. An ambulance arrived, and the patient was wheeled out on a gurney, covered with a white sheet, and presumably taken for emergency care at a hospital. I am not surprised if you haven't heard about this. Goodness knows that most media outlets wouldn't cover a story that would reflect negatively on an abortion clinic. Staff and volunteers also did all that they could to prevent onlookers and sidewalk counselors from witnessing what had happened to the patient. They encircled her, holding bright pink umbrella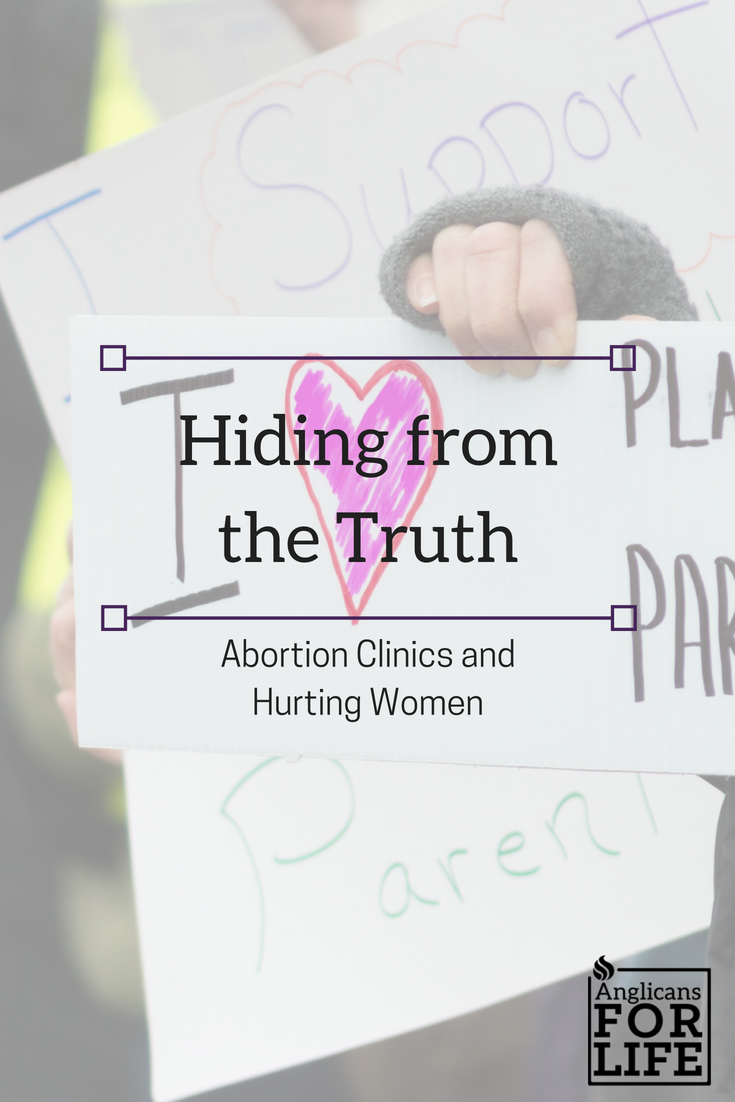 s, forming a phalanx-like unit of protection. Yet it was not the patient, who was harmed so deeply at the clinic that an ambulance had to be called, that they were protecting. No, they were protecting abortion, the right to end the life of an unborn child, and the interests of Planned Parenthood, all behind the deceptively bright pink façade of "care".
"The truth must be told… abortion hurts women."
I use this phrase often when I speak about the after-effects of abortion. However, as I recently prepared for a speech, I realized that I can be myopic. I often focus on the truth about the painful consequences of abortion. But sharing the truth also means sharing the realities of what is happening in the bigger picture of abortion. Unfortunately, the mainstream media doesn't publish a lot of the abortion news, such as the story I shared above, so the truth isn't being told. I believe that if the majority of Americans really knew the truth about both the after-affects and the day-to-day realities of abortion, people's tolerance would begin to erode. Here are a few examples:
• In St. Louis, MO a Planned Parenthood clinic opened in 2010. Since then, an unprecedented number of patients, as documented by Operation Rescue volunteers, have had abortion-related medical emergencies and been taken away by ambulance—149 patients to date. That's an average of one woman injured every 20 days. The most recent incident, in March of 2018, ironically happened as the city of St. Louis was trying to pass an ordinance that would create a buffer zone around the facility, making attempts to speak with women considering abortion impossible…as well as to view those who are taken away by ambulance.
• In July 2018, Dr. Robert Rho, who performed abortions at his clinic, Liberty Women's Health Care in Flushing, NY pled guilty to criminally negligent homicide for the death of Jamie Lee Morales, who died after a botched late-term abortion in 2016. Morales was over six months along in her pregnancy, and abortions are only legal until 24 weeks in the state of New York. Still, Rho performed the abortion, rushing what should have been a two or three day procedure into one day. During the abortion he tore her cervix, pierced her uterine wall, and cut her uterine artery. He attempted to stop the bleeding with a second surgical procedure, but the bleeding continued as he sent her home. Morales collapsed at her sister's house later that evening and died at the hospital. While Morales' family were able to see justice after Rho plead guilty to criminally negligent homicide, Rho has had a history of botched abortions and failed medical procedures that predates Morales's death. He was sued by a patient in 2008 for a botched second-trimester abortion, which caused her to give birth to a brain-damaged, premature child, and he was sued previous to that for causing severe bleeding during a tubal-pregnancy abortion. How many other women have been harmed that we don't know about? And how many people outside of New York have heard of Rho's fatal negligence?
• Not all harm done to women happens in abortion clinics. In the last year, there have been increased efforts to push the abortion pill, Mifepristone, commonly known as RU-486, as a safe abortion method. In fact, the number of women who have taken Mifepristone to end their pregnancies has grown exponentially since it was legalized in 2000, to 3.4 million as of December 2017, with a 5% increase from June of that year. The results have not been as safe as abortion supporters would have us believe. Since the drug was approved by the FDA in 2000, 22 women have died, 97 women have suffered ectopic pregnancies, 1,041 women have been hospitalized, and 411 women have contracted infections (69 of those were considered "severe" infections). Additionally, a series of complications have been reported in Ohio. There were 106 health problems due to RU-486 medication abortions in 2017, a 44 percent increase from 2016 and an 87 percent increase from 2014. Additionally, the RU-486 abortion pill had already caused 47 medical complications to women in Ohio in 2018 alone.
• Clinics are also lacking in basic safety and sanitary standards, which could put women at risk as well. Americans United for Life has released a report called "Unsafe: How the Public Health Crisis in America's Abortion Clinics Endangers Women". They have sorted through a number of clinic safety violations. In the last 10 years, there have been 754 clinic violations of health and safety standards (39 of them being Planned Parenthood clinics), which included failing to provide a safe and sanitary environment, effective staff training, and monitoring patient vital signs.
I tell you all this not so that you will lose heart, but so that you would be spurred to action. Spread the word that abortion hurts women emotionally, mentally, and spiritually, yes. But also share the truth that abortion harms women physically, even lethally. Because while abortion supporters wish to hide the truth behind umbrellas and promises of care, we want to shine the light of truth—that abortion kills an unborn baby and brings unspeakable lasting harm to women and families.
Written by Deacon Georgette Forney, President of Anglicans for Life