We have all watched scenes like this in movies or theater. Two people are in grave discussion. "How bad is it?" one asks, mournfully. The other person struggles with their emotions for a moment, hesitates, and then confirms the worst. "It's bad. We're looking at hospice care for her." And that's it. The word. Hospice. There may be one lingering scene of the ailing loved one in her bed. But, inevitably, the screen fades to black, before opening again after the funeral. Once the word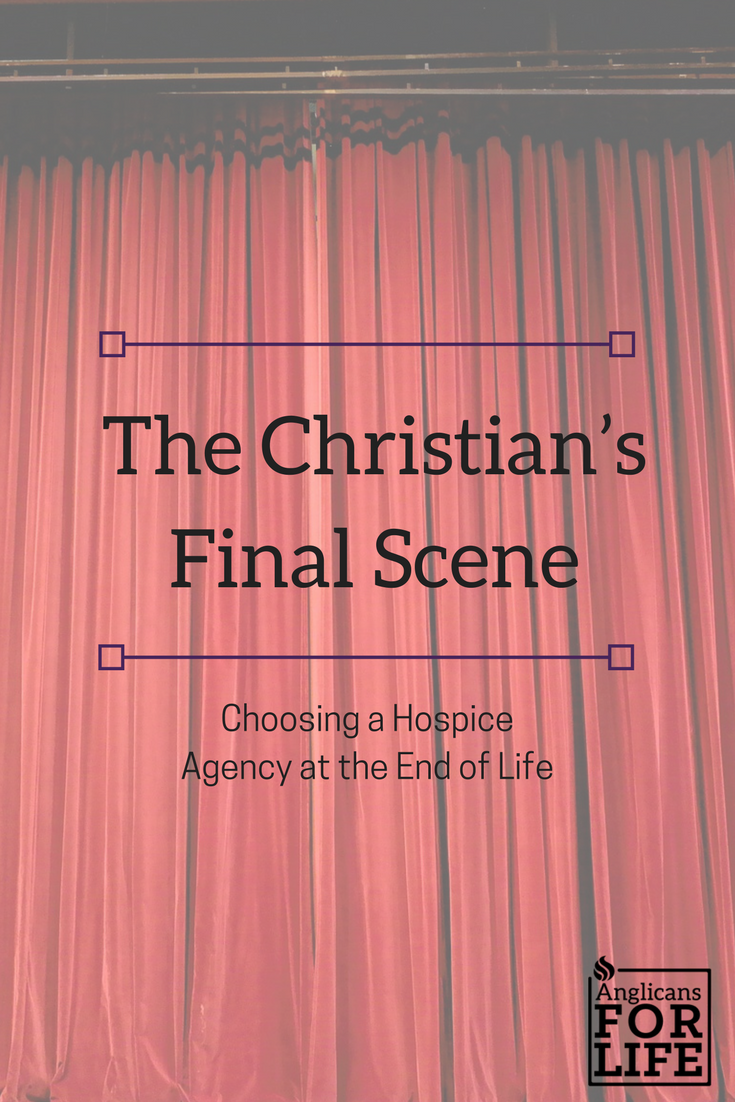 "hospice" is used, there's no need for characters to discuss care or treatment or life-expectancy. Hospice has become synonymous with "the end", a byword of death. Curtain closed.
Except, of course, in real life, it doesn't work like that. Hospice is often an important phase at the end of someone's life. Hospice helps the patient and family with a variety of services, in home or at the hospice facility, and focuses on enhancing the quality of remaining life in the last stages of terminal illness. It can be an enormous blessing to families with aging or ailing loved ones.
However, hospice programs are independent from one another, and the level or type of services provided are not the same. For that reason, it's essential that you interview hospice agencies prior to entering your loved one to their care. You may also want to consider hospice providers beyond the doctor or hospital referrals.
But how to decide? What is best for you or your loved one? Catholic Hospice Pittsburgh has provided a great list of questions to ask when hiring a hospice agency:
Medical or Care Questions:
• In detail, what types of services are provided?
• How often will each of these services be provided to me or my loved one?
• How are services provided after hours? How long may it take for an on-call nurse to respond to my call? How long may it take for an on-call nurse to get to my home?
• Can the hospice provide care in a nursing home or personal care home/assisted living?
• Can I receive IV fluids and tube feedings?
• Must I commit to a DNR (Do Not Resuscitate) status?
• Can I review all medications and the doses of the medications?
• Can I refuse certain medications?
• Do all patients receive the same medications?
• What should I do first if I am having a problem with the care my hospice is providing?
• What should I do if I feel the hospice hasn't addressed my concerns adequately?
Spiritual and Moral Questions:
• Is the hospice non-profit or for profit? Pro-life?
• What is the "mission" of the hospice? Does that mission match my own personal beliefs?
Legal or Financial Questions:
• Has the hospice been caught committing insurance fraud? (May want to start by simply researching the hospice agency online)
• Is the hospice licensed?
• Is the hospice Medicare certified?
• Will I receive a bill for expenses not covered by insurance?
Staff Questions:
• Can I meet with or speak via phone with the hospice administrator prior to a hospice admission?
• Can I meet the staff who will be providing care prior to admission?
• Will services be provided by the same individuals throughout the course of my care?
Caregiver Questions:
• What kind of support is available to my family/caregivers?
There are many questions and concerns you may have about choosing a hospice agency, either for yourself or a loved one. But the most important thing to keep in mind the goal of all believers, as put forth in Scripture—to live a life to glorify and honor God. And, much as your life has been precious to God, so is the end of it is as well. "Precious in the sight of the Lord is the death of his faithful servants." (Psalm 116:15) We don't often think of "death" as a beautiful thing. But a faithful believer dying, while uncomfortable or unpleasant for the patient and painful for the family, can be a wonderful final testament for a life well lived.
Find a hospice agency that will honor those last days. Ask questions, and learn about what the agency's values. Choose a hospice that will not simply allow your loved one to simply fade to black, but one that will celebrate their last scenes on earth's great stage.
Written by: AFL Administrator Robin Ferguson
For more help in hospice and end-of-life decisions, check out AFL's curriculum Embrace the Journey