Each month we will offer a list of action ideas so you can defend, honor, and celebrate Life in your churches and communities on our Take Action page. This month, we are looking at pre-natal diagnosis.
Gender reveals, baby showers, ultrasounds—pregnancy can be an exciting time for the mother, father, family, and friends of an unborn child. But pregnancy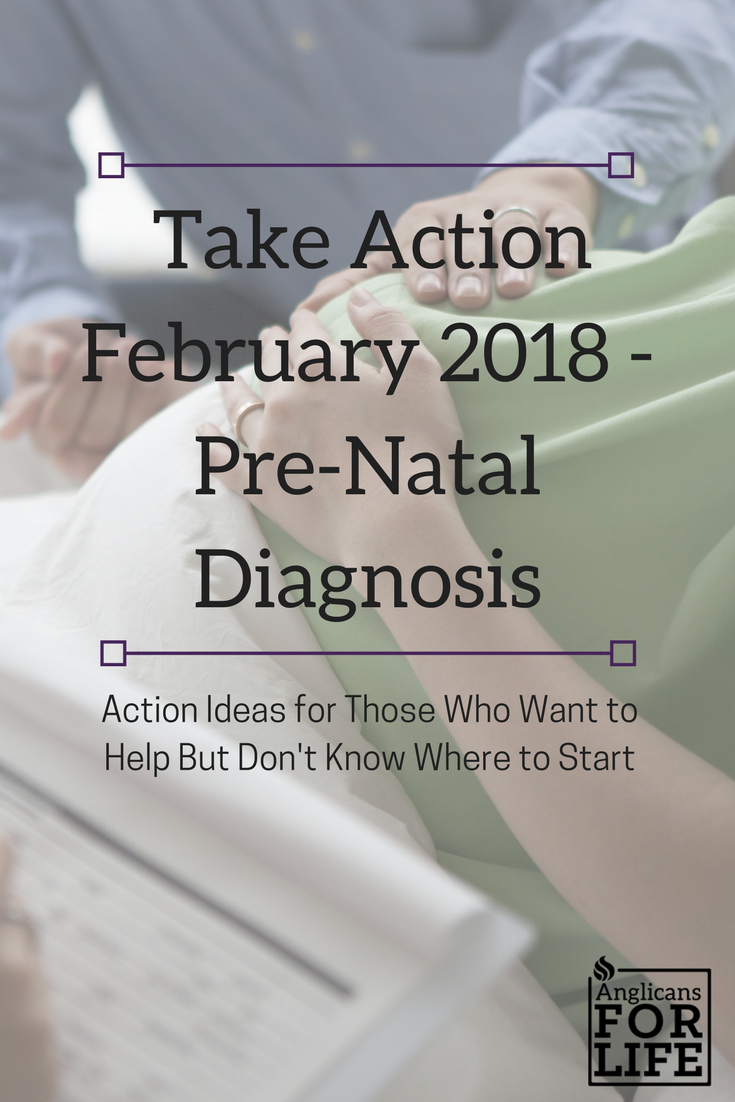 can also be a very uncertain time, as parents begin to make big decisions and changes, waiting for their child's arrival. However, many of us can only imagine the deep fear and worry felt by parents who are told by obstetricians that pre-natal tests have indicated that their unborn children are diagnosed with chromosomal conditions, such as Down syndrome or Turner syndrome, or other fetal conditions or maladies, such as Anencephaly or heart defects. Although these pre-natal tests only show markers for a condition and are not always 100% accurate, doctors will often advise a woman to end the pregnancy, even though the parents have already begun to bond with the child. For many pro-life people, aborting the child is an unacceptable answer, but they also have many questions and concerns. The Church needs to be a prayerful support for parents and families facing these unknowns. We need to be ready and willing to support parents through the pregnancy and through the treatment or care needed for their children. Sadly, we must also be ready to mourn with parents and to honor the lives of these children, for however long they live outside of the womb.
Action Ideas:
• Start a prayer chain within the church for the child, his/her parents, and family. Pass along regular updates.
• Talk to your priest or pastor about how your church handles baptism and funeral preparations for children born with prenatal conditions.
• Provide food for the parents and family members spending a lot of time at the hospital. If it is appropriate, plan with fellow church members about visiting and providing encouragement.
Helpful resources:
• Be Not Afraid – Non-profit organization who weeks to support parents experiencing a prenatal diagnosis and carrying to term.
• Pre-Natal Hospice and Palliative Care – Provides information about perinatal hospice & palliative care, including resources for parents and caregivers
Written by AFL Administrator Robin Ferguson