A woman of faith who chose adoption for her child said just a few years ago, "We need to change the dialogue about adoption.  We can change the perception by just speaking truth about the event.  By using honest terminology without judgement, we can transform lives."  Her choice to gift her child was not shame based.  Her choice was the recognition that she wanted her child to have both a mother and father who could provide a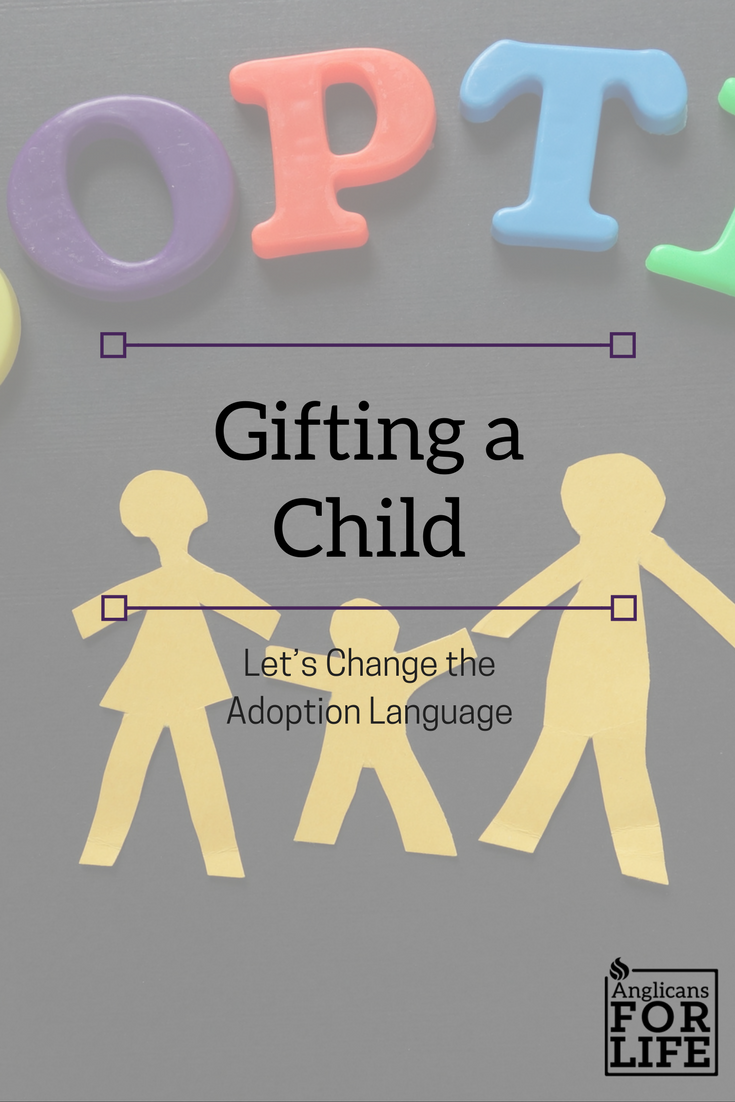 stable and loving home, which she wisely understood to be unrealistic in her circumstances.
As we speak the truth here, there were many women over the years who did not willingly make a decision to place their child through adoption.  They were pressed to choose adoption by parents, boyfriends, hospital staff, or social services staff who thought they should "guide" the birthmother to adoption.  Often that was the case for teen mothers who were without resources or family support and who saw adoption as a solution to a problem – not necessarily as the best choice for the child or for herself.  About seventy years ago, there were faith based organizations who judged the mother as unfit and facilitated adoptions without the biological mothers' consent.
The old terminology used to describe adoption was that the mother "put up" or "gave up" a child for adoption.  A harsher phrase such as "give away her baby" was often used.  The tone of those phrases is judgmental.  The current terms are "relinquished the child" or "transferred the child," with the underlying interpretation being that she "abandoned or rejected the child. This is sadly used regularly in families, as well by adoption agencies.   Let's change that terminology to "gifting a child to another family."    When we see the child as a gift to be shared in an open adoption or passed forward into a family, the dignity and grace that is due that child and the birthmother begins to flourish.
The lingering attitudes which are unhealthy – those of shame and secret holding – have brought several generations to hide an adoption.  The subject of "the child" is never discussed.  Let's stop that now!  We are failing to see that a child, who holds the DNA of parent/s and blood relatives, is worthy of acknowledgment.
When the parent is fourteen years old, for example, the ability to assume the role of parent is realistically complex and difficult.  The view of the birthmother, as well as her perceived "failure" to assume the role of a parent, needs to be ended as well.  Change that terminology to "the brave decision" made by a birthmother to gift her child.  Let's see the courage to not parent as one to be honored, not judged.
The brain reaches maturity around the age of 22. For a young birthmother, as well as older birthmothers, the hormone Oxytocin floods her body at birth.  That hormone is the bonding hormone.  It is God's divine plan to insure a mother will care for her child.  If a child is not present in the life of a birthmother, statistics prove that , while dealing with an immature brain and with elevated hormones, as the old song says, the birthmother may be "looking for love in all the wrong places."  The lack of maturity in the brain's frontal lobe, the trauma of childbirth, and the emotional state resulting from the perceived judgement of shame, guilt, or parental pressure on a teen parent creates a cauldron of opportunities for poor decisions in the future.
Over the last 25 years so many topics that were once considered taboo have come into the public discourse.  HIV/AIDS, same-sex marriages, transsexual/transgender, and sex change surgery are discussed publicly on TV, in movies, documentaries, magazines, and tabloid headlines.  But there is virtually no discussion about adoptions, because they are viewed as too private or too shameful.  How can that be allowed to continue? Let's talk about the adoption without judgement.  No matter the circumstances of the conception, we must remember that these children have been implanted with a soul at the very moment of the joining of two cells. Any child is God's child first. Can we see that it is God's plan for the biological parent to seek the best nurturing environment for their child?  That adoption should not be a secret but rather a testimony of God's authority? Birth mothers should be praised for the unfolding of their children's lives!  Rejoice for the birth families who have been wise, brave, and courageous in choosing adoption for their children.  Let's acknowledge adoption as God's plan.  It's perhaps not the plan we would have written if the script was in our hands, but one in which God can be glorified.  I pray that it can be for all those who are touched by adoption.
To commemorate November as National Adoption Month, we are featuring blogs about adoption written by guest writer Sharon Fox. Sharon is a Certified Grief Facilitator by the American Academy of Bereavement and has lead the Grief Recovery Ministry at Christ Church Plano, TX for over twenty years. She is the founder of the non-profit Brave Penny, providing books, materials, and training on grief recovery for clergy, lay ministers, and adoption agency staff.  Additionally, she has published several books, including Reframing Adoption, which focuses on the unique grief of birthmothers who have chosen adoption for their child.